Performance
It was my honor and privilege to study for almost 40 years with one of the greatest musicians of the 20th century: Ustad (Maestro) Ali Akbar Khan. He was a true "guru" in that he transmitted more than just the technical elements of the music. The music he taught came alive within me, so that over time I came to realize that I had learned and absorbed far more than I was conscious of at the moment of learning. Khansahib, as we called him, was a link to the oral tradition of living ragas, and I am fortunate to feel that life, his precious gift, when I perform.

------

DAVID TRASOFF is a senior disciple of the late maestro Ali Akbar Khan. David was privileged to have studied sarode performance and North Indian classical music with his guru since 1973. Acclaimed for his performance in both the United States and India, David has appeared in concert in arts centers, universities, conservatories, and festivals in the United States, Europe, and Asia and has made numerous performing tours in India.

In 2012 David became the first Western performer of Indian classical music to be appointed as the Gordhain Patel Visiting Distinguished Professor of Indian Music Studies at the University of Georgia's Hugh Hodgson School of Music.


Video links - Soundcloud links
Venues
David has performed and recorded with many of the most distinguished tabla artists in Hindustani classical music, including: Zakir Hussain, Anindo Chatterjee, Nayan Ghosh and Yogesh Samsi. A partial list of the venues at which he has given recitals in the past 25 years includes:


| | |
| --- | --- |
| Ravi Shankar Music Circle | Los Angeles, |
| Bodemuseum | Berlin. Germany |
| Bharat Bhavan | Bhopal, India |
| Sangeet Research Academy | Kolkata, India |
| Rabindra Bharati University | Kolkata, India |
| Mandapa Centre | Paris, France |
| National University of Music (UNAM) | Mexico City, Mexico |
| Consulate of the United States | Kolkata, India |
| Maritime Hall | San Francisco, California |
| House of Blues | Los Angeles, California |
| The Zee Network (Asia-wide satellite TV) | Mumbai, India |
| International Conference on Indian Music and The World | Mumbai, India |
| International Symposium on Musical Acoustics | Tokyo, Japan |
| Indian Academy of Fine Arts | Singapore |
| Muzikacademie Basel | Basel, Switzerland |
| University of California | San Diego |
| University of California | Santa Barbara, California |
| World Music Institute | New York |
| World Music Festival | California Institute of the Arts |
| Ramakrishna Mission Institute of Culture | Kolkata, India |
| Nehru Centre | Mumbai, India |
| National Center for the Performing Arts | Mumbai, India |
| India International Centre | New Delhi, India |
| Birla Academy of Fine Arts | Kolkata, India |
| Sangit Mahabharati | Mumbai, India |
| Muziekschool Amsterdam | Amsterdam, The Netherlands |
| World Affairs Conference | University of Colorado, Boulder |
Classical Indian Music Recordings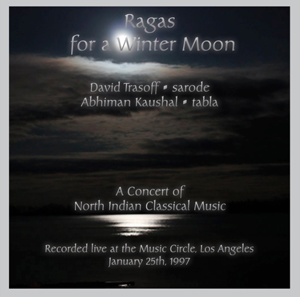 2010 Ragas for a Winter Moon, Rag Hemant, Rag Gorakh Kalyan
David Trasoff – sarod, Abhiman Kaushal - tabla
Recorded live in concert at The Music Circle, Los Angeles.
Published by Lila Vihun Music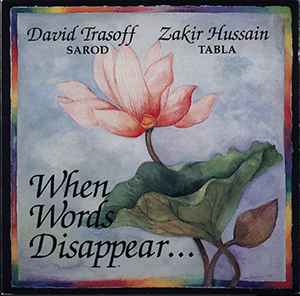 1991 When Words Disappear, Ragas Puria Kalyan, Jaijaiwanti, and Kirwani
David Trasoff - sarod, Zakir Hussain - tabla
Studio recording, published by Lila Vihun Music